No other Latin American staple quite captures the imagination, or a burrito, like a tortilla. Whether corn or flour, used in tacos and tostadas, soups and enchiladas or pies and casseroles, the ubiquitous tortilla is undeniable. The corn tortilla chip provides the greatest example of its popularity.
Tortilla chips sell all over the world from European supermarkets to grocery stores in Japan. It builds a culinary bridge between otherwise disparate cultures. So without further ado, let's examine the history of the tortilla chip and the development of its most famous plate, the nacho!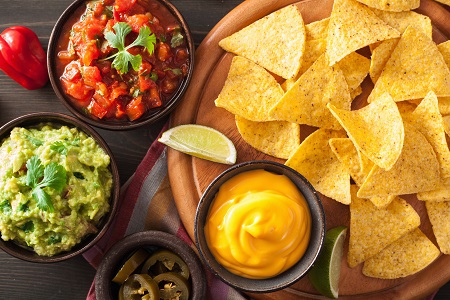 Nixtamal, Masa and Tortillas
Homemade corn tortillas began to appear around 2500 BC, when indigenous people realized using maize, water and lime gave them softer dough in a process called nixtamalization. Mesoamerican peoples soaked corn kernels in an alkaline solution for a day, then cooked them with lime-infused hot water to remove their outer shell. They ground the nixtamal into masa, letting it dry to make cornflour or keep it wet for dough. Finally they cooked the dough on hot stones with each tortilla made from a golf ball size scoop.
The Nahua (Aztec) people called them tlaxcalli in their native language and would eat them fresh off the griddle, wrapped around meat, fish and chili peppers for a meal. Spanish conquistadors took to the flatbread immediately, naming them after the "tortilla de patatas" from the Navarra region and using them as a staple food.
The word tortilla comes from the Latin root for twisted bread. This developed into the Spanish word "torta" meaning cake appended with "illa" meaning little. By the 19th century, the tortilla industry was well underway and the mixture of native and European foods created Mexico's first cosmopolitan cuisine. Batch-made and wrapped in a clean kitchen towel to retain heat and moisture, tortillas started their illustrious street food career.
Tortilla Chip Explosion
Tortillas didn't really reach their current level of global popularity until the 20th century with the invention and introduction of tortilla chips. The tortilla chip as we know it is widely credited to Rebecca Webb Carranza. She invented the snack in mid-1940s Los Angeles. The recipe was simple: she cut a batch of misshapen tortillas into triangles and then fried them on a hot skillet for a family party with friends. Soon, she and her husband began bagging and selling these homemade tortilla chips for a dime a bag.
Initially called tort chips, tortilla chips became an instant hit and since then the appetite for chips has only grown. Now sold in over 100 countries around the world, they have become one of Mexico's biggest exports and a staple in Mexican, Tex-Mex and Mexicali cuisine. Today one can purchase from many brands of tortilla chips including blue corn and flavored chip varieties. The related corn chip, made from cornmeal and water and popularized by the Fritos-Lays company, eschews the nixtamalization recipe for a stronger, saltier, buttery taste. Ask any person today and they are bound to have a favorite!
Nacho's Special
Without a doubt, however, the most famous tortilla chip dish is the almighty nacho plate.
Named for the legendary restaurateur Ignacio "Nacho" Anaya, he improvised a meal for some US military wives in Piedras Negras, Mexico. With no chef and limited ingredients at the Victory Club, Anaya had to improvise. Gathering corn tortillas fried in vegetable oil and then adding melted cheese with jalapenos on top, Anaya made food history. According to the legend, one of his patrons, Mamie Finan, asked him what they should call the dish and he responded: "well, I guess we can just call them Nacho's Special."
By 1943 they were on the menu as "Nacho's Special" and in 1961, he opened his own restaurant called Nacho's after the Victory Club closed. Nowadays, you don't need to visit Piedras Negras to find Nacho's Special. Just visit our Mayan Mexican Restaurant locations across the Olympia and Tumwater area to enjoy the legend of "Nacho's Special," today!
Enjoy Tortilla Chips at Mayan Mexican Restaurants Today!
The corn tortilla chip became an important part of the culture and symbol of Mexico. While only existing for less than a century, it transformed the ubiquity of the Mexican food industry. Tortilla chips and salsa were made the official state snack of Texas in 2003. They make for the perfect banquet food.
We hope this blog post gave you a good introduction to the origin of the tortilla chip as well as some background information about their history. If this whetted your appetite for more chips then come see us at our locations across Olympia. There we'll be happy to serve authentic dishes like tacos al pastor with appetizing chips and salsa starter. We even offer banquet facilities for your next family party. Contact us today!