Are you thinking of going out to eat at a restaurant in Olympia?
Even if you're an extraordinary chef, the chances are that every once in a while, you want to go out and let someone else do the cooking. And when you go out to a restaurant in Olympia, you should choose somewhere that has excellent food at fair prices and treats you how you deserve. If you're in the mood for Mexican food, that place is Mayan Family Mexican Restaurant. With authentic food and some recipes that have been passed down for generations, you won't find a better bang for your buck! Let our family cook for your family! We also offer quality banquet facilities in Olympia for any of your events!
Watch some football during Monday night Happy Hour!
If you bleed blue and green, our Happy Hour on Monday nights is perfect for you. Enjoy discounts on food and drink while you await the next touchdown. And if you're especially bold, root for the other guys, and we'll still serve you as one of our own; though we can't say the same about the other patrons!
Try something new at our authentic Mexican restaurant!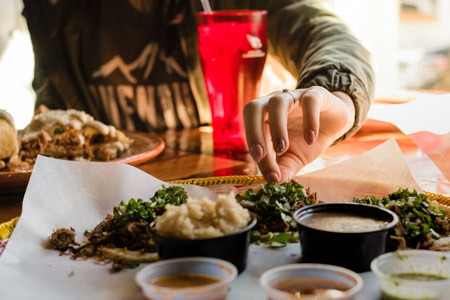 If you've stuck to typical food you can find in the States such as tacos and burritos, now is the perfect time to try a cultural favorite! While our menu has all the basics like chimichangas, enchiladas, and fajitas, we have many other specialties as well, including:
Albondigas: A meatball and vegetable soup.
Mariscada Mexicana: Seafood and sautéed mushrooms in ranchera salsa over a bed of rice and cheese.
Carnitas de Res: Steak strips with green peppers and onions served the way you like it.
Mole sauce: A Mexican delight that tastes much better than a blind hole digger! Try this authentic sauce instead of traditional salsa.
Deep-fried ice cream: Ice cream can be fried and still survive? You'll have to try it to believe it!
Flan: A custard topped with caramel, this could be your new favorite! But only if you get the real deal at a quality restaurant like ours!
Come stop by our place for the best Mexican restaurant in Olympia
With authentic food and even more authentic hospitality, you'll want to come back again in no time!
Looking for a delicious Mexican restaurant near Tumwater? Come to Mayan Family Mexican Restaurant today!